This week I'll be taking some time off to truly enjoy the Thanksgiving holiday. I encourage you to do the same. Today my friends at
http://www.aholyexperience.com/
are sharing their 1000 Gifts lists. Maybe you'll want to join them?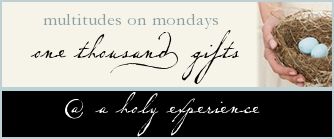 100. Time and freedom to unplugg
101. Memories made with my husband and in-laws
102. God's constant, amazing provision
Remember to give thank in ALL things (1 Thessaloniasn 5:18) this week and always, and be sure to check out Grace Driscoll's wonderful
post
on 'The Ministry Wife.'
Happy Thanksgiving to you an yours!